Toward the Sunrise
Julia Broeder is only six months shy of graduating from the Women's Medical College of Pennsylvania when one small decision spirals out of control and results in her expulsion. Hoping to travel the world as a missionary doctor, her only choice is to return back home…or throw herself upon the mercy of Ashton Carlyle.
Formal and straight-laced, Ashton Carlyle is not pleased to see an expelled Julia arrive at his Manhattan office. His position as a junior attorney for the Vandermark family's world-famous shipping empire entails taking care of the Broeders, longtime employees of the Vandermark family. But Ashton has no intention now of using his employer's resources in defense of Julia's impulsive and reckless actions.
What Ashton did not expect was a scathing reprimand from none other than the Vandermark family patriarch or the bewildering resistance from Julia herself when he's forced to change his tune. At an impasse, Ashton and Julia never anticipated the revelations that arise or the adventure that awaits them.
In this novella, award-winning novelist Elizabeth Camden introduces readers to the world of the grand Hudson River Valley estate Dierenpark and the enigmatic Vandermark family. Includes an extended preview of Until the Dawn, Camden's full-length Dierenpark novel.
**This is a book from my own personal collection. I am not being compensated for this review.**
I really enjoyed this prequel to Until the Dawn. Camden does a marvelous job of setting up the estate in which this novella is set as well as the following novel.
As for the characters, I really enjoyed both Julia and Ashton. The two were opposites in that Julia is consistantly following her heart and passions and Ashton has a strong will to just do what is right and expected of them. Both are passionate and hardworking. They were a great contrast to one another while also being a reflection of the other.
The story flowed wonderfully and there was just enough happening to introduce us to the main characters, hint at the coming novel, Until the Dawn, and be an entertaiing story all in the short length of this novella. I simply adored it!
"You've chosen a steep and daring path. No matter how hard, how grueling, how intimidating… you are going to change the world wherever you go. Don't give up now."

-Ashton Carlyle, Toward the Sunrise
Until the Dawn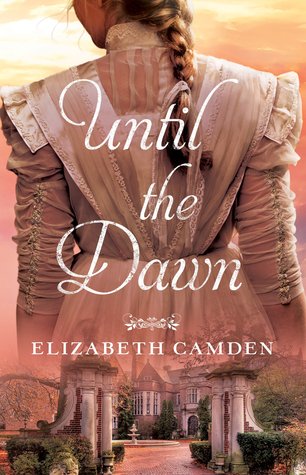 A volunteer for the newly established Weather Bureau, Sophie van Riijn needs access to the highest spot in her village to report the most accurate readings. Fascinated by Dierenpark, an abandoned mansion high atop a windswept cliff in the Hudson River Valley, Sophie knows no better option despite a lack of permission from the absent owners.
The first Vandermark to return to the area in sixty years, Quentin intends to put an end to the shadowy rumors about the property that has brought nothing but trouble upon his family. Ready to tear down the mansion, he is furious to discover a local woman has been trespassing on his land.
Instantly at odds, Quentin and Sophie find common ground when she is the only one who can reach his troubled son. There's a light within Sophie that Quentin has never known, and a small spark of the hope that left him years ago begins to grow. But when the secrets of Dierenpark and the Vandermark family history are no longer content to stay in the past, will tragedy triumph or can their tenuous hope prevail?

**I received a copy of this book from Bethany House and NetGalley in exchange for my honest review. All opinions expressed are my own.**
There were so many things to enjoy about this novel. For one, I loved the themes that Camden dived into concerning religion and science. Both ideas played heavily into the character development but also the plot as a whole.
But honestly, the plot in this novel was fantastic. All the mystery surrounding the history of the Vandermark estate and why so many bad things seemed to happen to the family. It was a bit of a shroud of mystery and drove the story forward.
The one part of the novel I was a bit disappointed with was Quentin Vandermark. While my opinion of him started to improve around the halfway point, I really didn't like him from the beginning. While I think he was supposed to be a brooding hero of sorts (Edward Rochester, anyone?) he seemed too self-pitying for my taste, and honestly, it got on my nerves a bit. But I"m glad to say that by the end, I did like his character. The other characters in this book had me charmed from the beginning. The adorble Pieter Vandermark and eccentric Nikolaas Vandermark were fun to see on the page. And then the heroine, Sophie van Riijn was one of y favorites. Her strong faith, continuous optimism, and just overall kindness made her someone that I really wanted to get to know.
Overall, this book was a good read.
"Please be aware that I am violently allergic to your brand of doe-eyed sentimentality. That much sugary optimism spilled into the atmosphere this early in the morning is liable to render us all comatose."

-Quentin Vandermark, Until the Dawn
About the Author:
Elizabeth Camden is a research librarian at a small college in central Florida. Her novels have won the coveted RITA and Christy Awards. She has published several articles for academic publications and is the author of four nonfiction history books. Her ongoing fascination with history and love of literature have led her to write inspirational fiction. Elizabeth lives with her husband near Orlando, Florida.