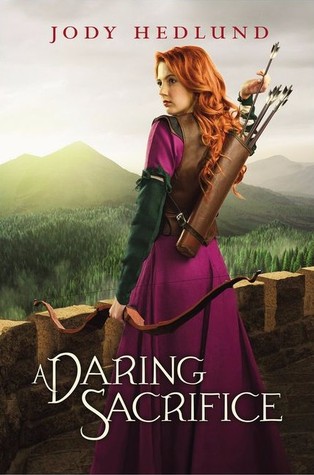 The only thing harder than fighting for what's right…is fighting their feelings for each other.

For three years, the Cloaked Bandit has terrorized Wessex, robbing the nobility by knifepoint and a well-placed arrow. But little does anyone know, this bandit is in fact Juliana Wessex, the rightful ruler of the land and a girl her tyrannical uncle–the current Lord Wessex–believes was killed along with her father.
Juliana has become skilled at hiding from Lord Wessex in the forest, using her stolen goods to provide food and shelter to the peasants her uncle has taxed into poverty. But when she robs Collin Goodrich, her red hair betrays her true identity. Lord Collin remember Juliana from their childhood–and challenges her to stay on his estate for a week in hopes she will leave her thieving ways and become a proper lady once more. Juliana is intrigued by Collin and his charms, but only time will tell if he can overcome her distaste of the nobility–as well as win her heart.
**I received a copy of this book from BookLook Bloggers in exchange for my honest review. All opinions expressed are my own.**
Robin Hood has always been a favorite fairytale of mine. Perhaps part of it is the fact that it could have happened. And there is something noble of a man who risks dangers to help the needy. Needless to say, I was excited to learn that the second novel in Jody Hedlund's YA series would have a decidedly Robin Hood-esque spin to it. I personally think it worked quite well.
From the beginning of this story, I was immersed. The opening is exciting and every page only works to develop the tension further until the climax of this book. There were a handful of times that I was not sure what to expect next and a few more that I was surprised by this story.But within all that action, there is a story that runs deep with themes of giving, sacrifice and love.
A Daring Sacrifice is a book that is geared towards teens. The writing tends to feel a bit more simplistic and certain parts of the book can feel a bit shallow. However, as an adult knowing this was a YA novel, I enjoyed the fluffiness of the story. The book is quite clean, although there are definitely scenes of violence and a couple of references to medieval torture. Nothing graphic, but it is there. This is a book I would certainly reccommend.
About the Author:
Jody Hedlund is an award-winning and bestselling author of inspirational historical romances for both adults and teens.
As a busy mama-writer, she has the wonderful privilege of teaching her crew of 5 children at home. In between grading math papers and giving spelling tests, she occasionally does a load of laundry and washes dishes. When she's not busy being a mama, you can find her in front of her laptop working on another of her page-turning stories.
She loves reading almost as much as she loves writing, especially when it also involves chocolate and coffee.