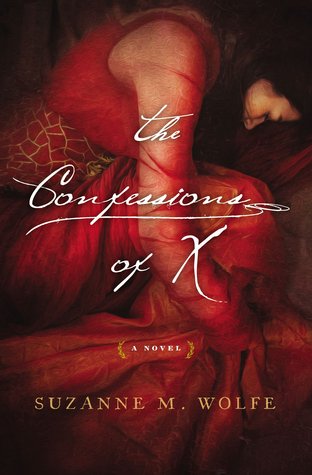 Before he became a father of the Christian Church, Augustine of Hippo loved a woman whose name has been lost to history. This is her story.
She met Augustine in Carthage when she was seventeen. She was the poor daughter of a mosaic-layer; he was a promising student and heir to a fortune. His brilliance and passion intoxicated her, but his social class would be forever beyond her reach. She became his concubine, and by the time he was forced to leave her, she was thirty years old and the mother of his son. And his Confessions show us that he never forgot her. She was the only woman he ever loved.
In a society in which classes rarely mingle on equal terms, and an unwed mother can lose her son to the burgeoning career of her ambitious lover, this anonymous woman was a first-hand witness to Augustine's anguished spiritual journey from secretive religious cultist to the celebrated Bishop of Hippo.
Giving voice to one of history's most mysterious women, The Confessions of X tells the story of Augustine of Hippo's nameless lover, their relationshipbefore his famous conversion, and her life after his rise to fame. A tale of womanhood, faith, and class at the end of antiquity, The Confessions of X is more than historical fiction . . . it is a timeless story of love and loss in the shadow of a theological giant.
**I received a copy of this book as part of the Fiction Guild in exchange for my honest review. All opinions expressed are my own.**
When I started this book, one of the first things that stood out to me was how poetic Wolfe's writing is. It is utterly beautiful. And I was sad when I felt I needed to put this book down around the halfway point.
First of all, I really don't know much abou Augustine of Hippo, save his name and he had something to do with the church. So I was looking forward to reading this book and getting my interest piqued a bit by a historical figure. Wolfe's novel certainly captures the setting and time in which this story took place. I felt as if I was there.
I knew ahead of time a bit about the relationship between Augustine and the woman, however, some of the lines regarding their relationship was a bit too sensual for my taste, and that lead me to deciding to set this book down as it just got to be a bit too much.
About the Author:
Suzanne M. Wolfe grew up in Manchester, England and read English Literature at Oxford University, where she co-founded the Oxford C.S. Lewis Society. She is Writer in Residence at Seattle Pacific University and has taught literature and creative writing there since 2000. Wolfe is the author of Unveiling: A Novel(Paraclete Press, 2004). Twenty five years ago, she and her husband, Gregory Wolfe, co-founded Image, a journal of the arts and faith. They have also co-authored many books on literature and prayer including Books That Build Character: How to Teach Your Child Moral Values Through Stories (with William Kirk Kilpatrick, Simon & Schuster, 1994), and Bless This House: Prayers For Children and Families (Jossey-Bass, 2004). Her essays and blog posts have appeared in Image and other publications. Wolfe is currently working on a series of mystery novels set in Elizabethan London. She and her husband are the parents of four grown children. They live in Richmond Beach, Washington.