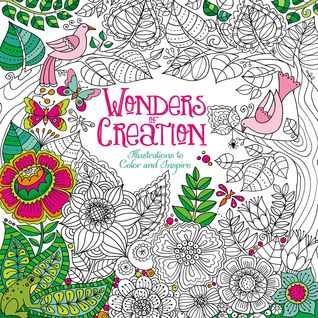 Wonders of Creation explores the wonders of our created world though detailed black-and-white illustrations—each one ready to be filled with the hues of your imagination. From amazing Eden-esque gardens to the creatures God made that still ramble through our world, this ninety-six-page book offers hours of coloring inspiration and relaxation for any age.
**I received a copy of this book from BookLook Bloggers in exchange for my honest review. All opinions expressed are my own.**
I have been so excited about this coloring book. There's just so much to love about it. First of all, I am a fan of some of coloring books that use more patterns, but I also enjoy a nice scene or object to color. This book does a wonderful job of incorporating both. While there isn't much in the way of pictures with just patterns, there are a handful of pages that have animals made up of patterns on them. I for one absoulutely love that!
Since this book arrived, I've loved just flipping through it and looking at the lovely pictures–and there are a ton. It will certainly take some time to color this whole book.
The book does have pictures on both sides, but the paper is quite heavy and sturdy. However, on a test page I did find that darker marker colors do show through a bit (it doesn't bleed through however, but you can notice it). Having the images on both sides also allow for a handful of two page spreads in the book. Many of the images do have quite a bit of detail, but there are a few simpler images that could make this book appropriate for an older child or someone who is just starting to get interested in the adult coloring book phenomenon.
Overall, there is just so much to love about this book and it is one that I would highly reccommend.