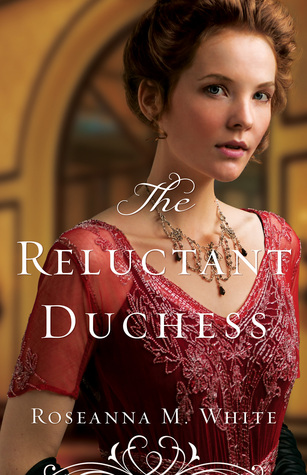 A Riveting Edwardian Series Set among Britain's High Society

Lady Rowena Kinnaird may be the heiress to a Highland earldom, but she has never felt good enough–not for her father, not for the man she thought she'd marry, not for God. But after a shocking attack, she's willing to be forever an outcast if it means escaping Loch Morar.
Brice Myerston, the Duke of Nottingham, has found himself in possession of a rare treasure his enemies are prepared to kill for. While Brice has never been one to shy away from manor-born ladies, the last thing he needs is the distraction of Lady Rowena, who finds herself in a desperate situation. But when Rowena's father tries to trap Brice into marrying his daughter, Brice makes a surprising decision.
Rowena wanted to escape the Highlands, but she's reluctant to marry a notorious flirt. And when she learns that Brice is mixed up in questionable business with a stolen treasure, she fears she's about to end up directly in the path of everything she was trying to avoid.
**I received a copy of this book from Bethany House in exchange for my honest review. All opinions expressed are my own.**
After reading The Lost Heiress, I could hardly wait for the next book in the Ladies of the Manor series. Now that the second book has made it to my read pile, I'm anticipating the third book to see how everything will end.
First of all, if you have not yet read The Lost Heiress, don't even think of picking this book up until you have read it. So much of the intrigue and a number of characters come back in this book and your enjoyment of The Reluctant Duchess will be hindered.
I absolutely adored this book. Rowena and Brice were fantastic characters. Brice we met in the previous novel, but to get to know him better and see his story unfold was a treat. And Rowena is so wonderful and her storyline gripped me and held me captive early on. Both of these characters have to learn to trust– and the way they have to learn is difficult, but that is what makes this such a wonderful book.
The Ladies of the Manor series is a favorite of mine so far and one that I can reccommend most highly. They are clean novels that will have you on the edge of your seat. And a wonderful Edwardian setting doesn't hurt either.
"I can't blame you for being annoyed with me, given my utter perfection–perfection is annoying, isn't it? Thoug in your list, you left off a few vital items. Like my perfect handsomeness. And my perfect dancing. And my perfect horsemanship. My perfect teeth."

-Brice Myerston, The Reluctant Duchess
About the Author:
Roseanna M. White grew up in the mountains of West Virginia, the beauty of which inspired her to begin writing as soon as she learned to pair subjects with verbs. She spent her middle and high school days penning novels in class, and her love of books took her to a school renowned for them.
After graduating from St. John's College in Annapolis, Maryland, she and her husband moved back to the same mountains they equate with home.
Roseanna is the author of two biblical novels, A Stray Drop of Blood and Jewel of Persia, the historical romance, Love Finds You in Annapolis, Maryland, and the historical, romantic suspense Culper Ring Series (Ring of Secrets, Whispers from the Shadows, andCircle of Spies). She is also the senior reviewer at the Christian Review of Books, which she and her husband founded, the senior editor at WhiteFire Publishing, and a member of ACFW, HisWriters, and Colonial Christian Fiction Writers.