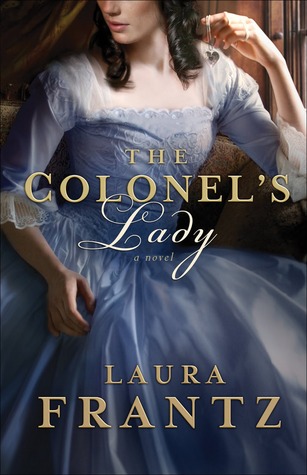 In 1779, when genteel Virginia spinster Roxanna Rowan arrives at the Kentucky fort commanded by Colonel Cassius McLinn, she finds that her officer father has died. Penniless and destitute, Roxanna is forced to take her father's place as scrivener. Before long, it's clear that the colonel himself is attracted to her. But she soon realizes the colonel has grave secrets of his own–some of which have to do with her father's sudden death. Can she ever truly love him?
Readers will be enchanted by this powerful story of love, faith, and forgiveness from reader favorite Laura Frantz. Her solid research and deft writing immerse readers in the world of the early frontier while her realistic characters become intimate friends.
**This is a book from my own collection. I am not being compensated for this review.**
The Colonel's Lady is yet another wonderfully written novel by Laura Frantz. And this one had me fretting for these characters. Between illness and unrest, there were so many perils facing the characters in this story and I had no idea how things would end. There was easily tension in every part of this book, and it seemed like the stakes just kept getting raised.
I truly came to care about these characters and there is a whole cast of them to get to know. And true to her style, this novel takes readers into history and brings it to life. Every word feels intentional and just adds breath to the story.
If you love historical fiction, but have yet to pick up a novel by Laura Frantz, I highly reccommend you do so, and soon. And do yourself a favor, take your time and savor all the details.
"I've been thinking of something your father said–that the true measure of love is what one is willing to give up for it. He was talking about freedom–fighting for liberty. but I believe 'tis the same for love as war."

-Colonel Cassius Clayton McLinn, The Colonel's Lady
About the Author:
Laura Frantz is the author of The Fronteirsman's Daughter, Courting Morrow Little, The Colonel's Lady, and the Ballentyne Legacy Series. She lives and writes in a log cabin in the heart of the Kentucky Woods.