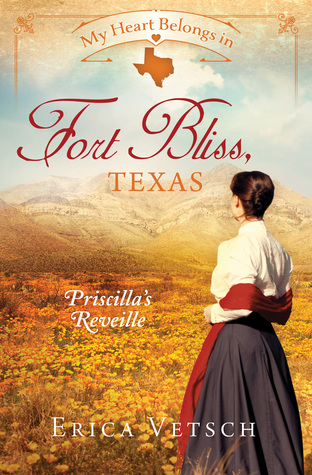 Journey now to Fort Bliss in West Texas of 1874, where…
A Battle Is About to be Waged Between Two Hearts.
 
Fashion artist Priscilla Hutchens has a grudge against the army that has ruined her family and taken the people she holds most dear. When her twin niece and nephew are left orphaned at Fort Bliss, Texas, she swoops down on Fort Bliss to gain custody of them immediately.
There is just one thing standing in the way—Post surgeon Major Elliot Ryder, who is also the twins uncle, also claims the children and thinks he knows what is best for them.
Priscilla and Elliot will cross swords, but each will have to lay down arms if they are to find a lasting peace on which to form the family both are longing for.  Who will win the battle? Or will a truce be called for the sake of love and family?
**I received a copy of this book in exchange for my honest review. All opinions expressed are my own.**
What happens when two people both think they have the right to raise orphaned twins and each one thinks a very different environment is right for them? That's the question at the heart of Erica Vetsch's Love Finds You in Fort Bliss, Texas: Priscilla's Reveille. The leading characters of this novel are Priscilla, who detests all things military, and Elliot, someone who is an officer in the United States Army. And also Timothy and Tessa, the orphaned twins who are consistently getting into a bit of mischief and bringing a bit of light-heartedness to the page.
Despite the slow start of this novel, which feels a bit rough at times, this novel slowly smooths out to being one of those books that are just enjoyable to sit back and read for a time. It was fun following Priscilla around Fort Bliss and also consistently arguing with Elliot over what would be best for the twins. And I enjoyed watching the two of them on the page. And while there were a few unexpected moments in the story, nothing really caught me off guard or were huge surprises.
By the end, I can say that this was a well-written and fun book. While it wasn't something that I would call highly memorable, I can't say that I really have any complaints about it either. It's a book I would recommend to someone looking for something in the historical fiction genre that isn't too meaty of a story.
"Life and death are in the hands of the Creator, and aren't we blessed because of it? Imagine what a mess we would make of things if were were the ones in charge."

-Priscilla Hutchens, Love Finds You In Fort Bliss, Texas: Priscilla's Reveille
For more information about this author or this book, please visit the following links: