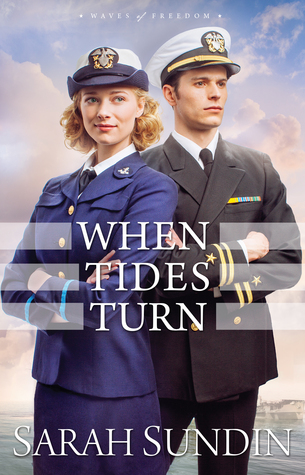 When fun-loving glamor girl Quintessa Beaumont learns the Navy has established the WAVES program for women, she enlists, determined to throw off her frivolous ways and contribute to the war effort. No-nonsense and hoping to make admiral, Lt. Dan Avery has been using his skills to fight German U-boats. The last thing he wants to see on his radar is a girl like Tess. For her part, Tess works hard to prove her worth in the Anti-Submarine Warfare Unit in Boston–both to her commanding officers and to the man with whom she is smitten. When Dan is assigned to a new escort carrier at the peak of the Battle of the Atlantic, he's torn between his lifelong career goals and his desire to help Tess root out a possible spy on shore. The Germans put up quite a fight, but he wages a deeper battle within his heart. Could Tess be the one for him?
With precision and pizazz, fan favorite Sarah Sundin carries readers through the rough waters of love in a time when every action might have unforeseen world-changing consequences.

**I received a copy of this book in exchange for my honest review. All opinions expressed are my own.**
As always, it's a bittersweet thing to turn the final page of the last book in a series. Sarah Sundin quickly became a favorite author of mine a few years ago. Her novels include characters that are in the middle of the war and she does an exquisite job of bringing them to life as well as transplanting readers in the midst of whatever is happening. That was true in her first series, second series, and now this third series.
This book, though, will certainly stand out for me in memorable characters. Not to mention that the main pairing couldn't be more opposite from one another. Tess is beautiful and fun-loving but all she really wants is to be useful and find a purpose. Dan is all work and seriousness. But, they find ways to aid each other and a relationship grows. All of this is set against a background of espionage and military protocols. Incorporating the history surrounding the WAVES and fighting against German U-Boats, Sundin takes readers to Boston in When Tides Turn.
While I wouldn't put this book as one of my favorites of Sundin's, I still thoroughly enjoyed it. It had everything that I would hope for in her books. And this one, among all the rest of her novels, are ones I would highly recommend. But I would note that while this book could be read as a standalone, I would suggest starting with the first book of the series.
For more information about this author or this book, please visit the following links: