There is something about the water that just pulls me towards it. My family always joked that I loved it because my mom walked along the shores of Lake Michigan the day before I was born. Since then, I've made a point to visit the lake on my birthday. But even beyond that, the water is both soothing and awe-inspiring. I love how small it can make me feel when I look out over it and see nothing but water and sky to the horizon. 
This novel strongly appealed to the ocean-lover in me as the ocean is never far away in this story. Then I recieved an added bonus when I discovered the author, Christine Johnson, is also a Michigander and enjoys the beauty of Lake Michigan.
**I received a copy of this book from Revell in exchange for my honest review. All opinions expressed are my own.**
When her mother dies, Elizabeth Benjamin heads home to Key West, determined to transform herself into the perfect Southern belle her parents always wished her to be. But nothing goes according to plan. Her crippled brother resents her, the servants do not obey her, and Rourke O'Malley, the dashing man she vowed to forget, refuses to relinquish his hold on her heart. Worst of all, it becomes painfully obvious that her father is not the upright man he appears to be.
As family secrets come to light, Elizabeth is faced with a difficult choice: to do her duty and abandon her dreams, or to leave her life of privilege behind to chase the man her father sees as little better than a pirate.
From the first emotional page, author Christine Johnson throws readers into a world of impossible choices, hidden desires, and heart-melting romance in the steamy south. Readers will cheer for Elizabeth and Rourke as they battle the odds and the elements to secure their future.
"The truth cannot be hidden. The harder you try to smother it, the more it wiggles free."

-Lizzie Benjamin, Love's Rescue
Characters: This novel was filled with quite the cast of characters. There is a strict father, a crippled brother, a faith-filled man, an exuberant aunt, flighty suitor and loyal servant making up the main characters. The characters added humor and depth to this story with their interaction with each other. Each characted complimented another and on their own came to life.
Storyline: Some stories have a subtle pull to them. You can't always identify what it is that keeps you eager for the next page, but there is something there. This is one of those stories. I quickly found myself immersed in this story of love and forgiveness. As I moved through it, I was rewarded with a number of twists and turns on the voyage to the end of it.
My Thoughts:  I really didn't know what to expect when I started this book. But from page one, I was drawn in and throughoutly enjoyed this book. My only complaint is that I read it before beach season began–because I think it would make for a wonderful beach read.
About the Author: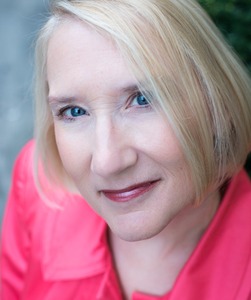 Christine is a small-town Michigan girl who has lived in every corner of the state's Lower Peninsula. From a young age, she knew she wanted to do something in the arts. After trying her hand at music and art, she returned to her first love — story. She feels blessed to write Christian fiction and to be twice named a finalist for Romance Writer's of America's Golden Heart® award.
When not at the computer keyboard, she loves to hike and explore God's majestic creation. These days, she and her husband, a Great Lakes ship pilot, split their time between northern Michigan and the Florida Keys.